Staff
Bill Trainor
College Minister
E-Mail:

Background & Education
Bill Trainor was born and raised in Starkville, MS. He has attended Meadowview his whole life, and after graduating from Mississippi State University May 2015, he grew a passion for discipling college students. He currently works at Mississippi State full-time while serving bi-vocationally as college minister here at Meadowview.
Family
While attending church at Meadowview, Bill met Andrea Trainor. They were married in Starkville, MS on September 16, 2017. Bill and Andrea have one son named Gray who was born July 3, 2020.
Life Verse
"For the grace of God that brings salvation has appeared to all men, teaching us that, denying ungodliness and worldly lusts, we should live soberly, righteously, and godly in the present age, looking for the blessed hope and glorious appearing of our great God and Savior Jesus Christ." Titus 2:11-13

Facts
Joined Staff at Meadowview: 2019
Ministerial Service Began: 2019
Favorite Hymn: At Calvary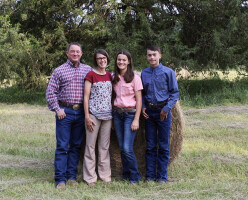 William & Julie White
Youth Leaders
E-Mail:

Background & Education
Julie and William both work full-time for Mississippi State University and are owners of White Farms in Starkville, MS. Julie received her Doctorate in Philosophy - Agricultural Sciences May 2022. They both serve as bi-vocational youth leaders here at Meadowview Baptist Church.
Family
Julie and William have two children Matthew White and Morgan White. They love spending time with them while working on the farm, supporting their various interests in sports through Starkville Christian School, and teaching them to love and serve Jesus.
Facts
Joined Staff at Meadowview: 2021
Ministerial Service Began: 2021